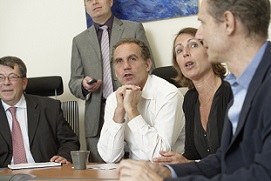 Finaxim is a network of experts in operational management of forty business entities.
Created in 2000, it is one of the leaders in the outsourcing of company functions.
We bring to the table on-demand SMB solutions and take care of transition missions and transformation projects from medium-sized companies and large accounts.
Our group also provides solutions for recruitment and training.
Our services are flexible, economical and constantly enriched by the experience gained from very diverse companies with more than 500 customer references. We demonstrate any responsiveness required by our customers, and an ability to work in part remotely. We are committed to rely on the in-house expertise of our customers to facilitate the appropriation of information, methods, and procedures that we pass.
Our consultants bring their prior experience in business. They reason in terms of implementation and feasibility, taking into account the specific context of each client, more than in terms of abstract concepts.
Our quality approach is based on the involvement and professionalism of our teams, and is a reflection of our ambition. We clearly define quality commitments and a high level of requirement.
Come and share the richness of our operating model! The Finaxim Group assembles a large number of skills, which you will benefit from thanks to the permanent sharing of experience among our consultants.